Uso de la evaluación en 360 grados para medir competencias en residentes de programas de postítulo de especialidades médicas.
Use of the 360-degrees assessment tool to assess competencies in residents of postgraduate programs of medical specialties: A literature review.
Palabras clave:
residentes, Competencia, retroalimentación
Resumen
Introducción: La formación en educación médica debe reflexionar continuamente sobre cómo está preparando a los médicos en el logro de nuevas competencias que puedan dar respuesta a los constantes cambios que está viviendo la sociedad. Es así­ como, en distintos países, han surgido modelos que definen el marco de competencias necesarias para todo médico especialista. Para estos modelos es fundamental que cada rol y competencia sea evaluado correctamente para garantizar su óptima adquisición. Uno de los instrumentos propuestos en la literatura internacional para realizar esto es la evaluación en 360º, que además entrega una retroalimentación oportuna al residente. Método: Se realizó una revisión de la literatura utilizando PubMed y Google Scholar. Fueron incluidos estudios en inglés y español que ocuparan la evaluación en 360º para evaluar competencias médicas en residentes. Resultados: La evaluación en 360º es una de las nuevas herramientas que permite dar una evaluación global de las competencias médicas. Consiste en una pauta de observación estructurada que entrega al residente una retroalimentación desde distintos puntos de vista de su práctica cotidiana, al incluir la información obtenida de diferentes grupos de interés para el residente. Conclusiones: La evaluación en 360º parece ser un método útil para implementar una evaluación del desempeño de los residentes desde distintos puntos de vista.
Citas
Allerup P, Aspegren K, Ejlersen E, Jorgensen G, Malchow-Moller A & Moller MK. (2007) Use of 360-degree assessment of residents in internal medicine in a Danish setting: a feasibility study. Medical Teacher. 29, 166–170.
Ao P, Kahlon S, Daniels V, Goldstein C. (2014) Multisource Feedback for Assessment of Intrinsic CanMEDs Competencies. En The International Conference on Residency Education (ICRE); Toronto.
Bandiera G & Sherbino J. (2006) The CanMEDS assessment tools handbook: An Introductory Guide to Assessment Methods for the CanMEDS Competencies. Ottawa: Royal College of Physicians and Surgeons of Canada.
Berger E, Chan MK, Kuper A, Albert M, Jenkins D & Harrison M. (2012) The CanMEDS role of Collaborator: How is it taught and assessed according to faculty and residents? Paediatrics & Child Heal. 17, 557–560.
Berk RA. (2009) Using the 360 multisource feedback model to evaluate teaching and professionalism. Medical Teacher. 31, 1073–1080.
Bunk G. (1994) Teaching Competencein Initial and Continuing Vocational Trainingin the Federal Republic of Germany. Vocational Training European Journal. 1, 8–14.
Carroll T. (1999) Multidisciplinary collaboration: a method for measurement. Nursing Administration Quarterly. 4, 86-90
Chou S, Cole G, McLaughlin K & Lockyer J. (2008) CanMEDS evaluation in Canadian postgraduate training programmes: Tools used and programme director satisfaction. Medical Education. 42, 879–886.
Dwyer T, Takahashi SG, Hynes MK, Herold J, Wasserstein D & Nousiainen M. (2014) How to assess communication, professionalism, collaboration and the other intrinsic CanMEDS roles in orthopedic residents: Use of an objective structured clinical examination (OSCE). Canadian Journal of Surgery. 57, 230–236.
Frank JR. (2005) The CanMEDS 2005 Physician Competency Framework. Ottawa: Royal College of Physicians and Surgeons of Canada.
Frank JR, Snell L & Sherbino J E. (2015) CanMEDS 2015 Physician Competency Framework. Ottawa: Royal College of Physicians and Surgeons of Canada.
Hoyl T, Grez M, González M, Cifuentes L, Kattan J, Puschel K & Ibañez L. (2016) International accreditation - Strategies for implementation of the CanMEDS framework in PUC- Chile residency programs : What works for us. En The International Conference on Residency Education (ICRE); Ontario.
Lockyer J. (2003) Multisource feedback in the assessment of physician competencies. Journal of Continuing Education in the Health Professions. 23, 4–12.
Martínez P, Martínez M & Muñoz J. (2008) Formación basada en competencias en educación sanitaria: Aproximaciones a enfoques y modelos de competencia. Relieve- Revista Electronica de Investigación y Evaluación Educativa. 14, 1–23.
Miller GE. (1990) The assessment of clinical skills/competence/performance. Academic Medicine. 65, 63-67.
Miller A & Archer J. (2010) Impact of workplace based assessment on doctors' education and performance: a systematic review. BMJ. 341, 5064.
Morán-Barrios J & De Gauna-Bahillo PR. (2010) ¿Reinventar la formación de médicos especialistas?: Principios y retos. Nefrologia. 30, 604–612.
Neufeld V, Maudsley R & Pickering R. (1998) Educating future physicians for Ontario. Academic Medicine: journal of the Association of American Medical College. 73, 1133-1148
Nolla-Domenjó M. (2009) La evaluación en educación médica: Principios básicos. Educación Médica. 12, 223–229.
Norcini J & Burch V. (2007) Workplace-based assessment as an educational tool: AMEE Guide No. 31. Medical Teacher. 29, 855–871.
Oriol A. (2010) El reto de Bolonia: la evaluación de las competencias. Educación Médica. 13, 123–125.
Probyn L & Lang C. (2013) Multisource feedback and self-assessment of the Communicator, Collaborator, and Professional CanMEDS roles for Diagnostic Radiology Residents. En: 76th Annual Scientific Meeting; Montreal, Quebec
Puddester D, MacDonald CJ, Clements D, Gaffney J & Wiesenfeld L. (2015) Designing faculty development to support the evaluation of resident competency in the intrinsic CanMEDS roles: practical outcomes of an assessment of program director needs. BMC Medical Education. 15, 100.
Royal College. (2014) Accreditation Committee. International Program Standards ( IPS ). Ottawa: Royal College of Physicians and Surgeons of Canada.
Schuwirth L & Van der Vleuten C. (2011) Programmatic assessment: From assessment of learning to assessment for learning. Medical Teacher. 33, 478–485.
Whitehead C, Martin D, Fernandez N, Younker M, Kouz R & Frank J. (2011) Integration of CanMEDS Expectations and Outcomes. Members FMEC PG Consort.
Wood L, Wall D, Bullock A, Hassell A, Whitehouse A & Campbell I. (2006) Team observation: a six-year study of the development and use of multi-source feedback (360-degree assessment) in obstetrics and gynaecology training in the UK. Medical Teacher. 28, 177-184.
Wood L, Hassell A, Whitehouse A, Bullock A & Wall D. (2008) A literature review of multi-source feedback systems within and without health services, leading to 10 tips for their successful design. Medical Teacher. 28, 185–191.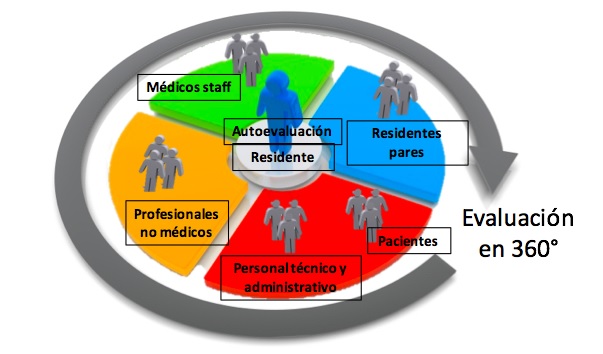 Descargas
Sección
Artículos de Investigación
Licencia
A partir del 1 de octubre 2023, los autores/as conservan sus derechos de autor y garantizan a la revista el derecho de primera publicación de su obra, la que estará simultáneamente sujeta a la Licencia CC BY-SA 4.0 (Ver declaración de Acceso Abierto).