Burnout y bienestar estudiantil: una mirada nueva a un problema viejo
Student burnout and wellness: a fresh look at an old problem
Palabras clave:
estudiantes, médico, agotamiento, bienestar, seguridad educativa
Resumen
El aumento de la prevalencia de problemas de salud mental y burnout en estudiantes y profesionales de la salud en Chile y el mundo, asociado a la actual pandemia de COVID-19, ha visibilizado un viejo problema que urge abordar:  el agotamiento crónico y los problemas de salud mental que sufren los estudiantes a lo largo de su formación.  Para resolverlo, se requiere mucho más que mejorar el acceso a servicios de salud mental o propiciar iniciativas puntuales que promuevan el bienestar. Es preciso revisar la cultura institucional, remover las barreras al bienestar e introducir iniciativas que permitan la 'seguridad psicológica', característica de ambientes educacionales que favorecen el bienestar y el aprendizaje significativo. En un futuro cercano, las instituciones formadoras tendrán que demostrar que sus estudiantes y docentes tienen niveles adecuados de bienestar, y que implementan y evalúan regularmente el impacto de las políticas curriculares destinadas a asegurar este objetivo. En este artículo revisaremos la situación de salud mental de los estudiantes de medicina, particularmente del síndrome de agotamiento profesional o burnout y sus consecuencias; describiremos algunas evidencias de intervenciones exitosas para reducir el burnout, incluyendo una experiencia nacional, y analizaremos la relación entre la cultura médica y el bienestar estudiantil. Finalmente, reflexionaremos sobre las características de los ambientes educacionales que permiten un aprendizaje profundo y significativo, y que compatibilizan la excelencia académica con el bienestar de los aprendices.
Citas
ACGME, 2021 Accreditation Council for Graduate Medical Education. Accedido en : https://www.acgme.org/what-we-do/initiatives/physician-well-being/ el 05 de septiembre de 2021.
Anastasiades MH, Kapoor S, Wootten J. & Lamis DA. (2017). Perceived stress, depressive symptoms, and suicidal ideation in undergraduate women with varying levels of mindfulness. Arch Womens Ment Health 20, 129-138.
Bitran M, Gonzalez M, Nitsche P, Zuniga D. & Riquelme A. (2017). Preocupación por el bienestar de residentes, un tema presente en la Conferencia Latinoamericana en Educación de Residentes (LACRE) 2017 Rev Med Chil 145, 1330-1335.
Bitran M, Zuniga D, Pedrals N, Echeverria G, Vergara C, Rigotti A. & Puschel K. (2019). Burnout en la formacion de profesionales de la salud en Chile: Factores de proteccion y riesgo, y propuestas de abordaje desde la perspectiva de los educadores. Rev Med Chil. 147, 510-517.
Brazeau CM, Shanafelt T, Durning SJ, Massie FS, Eacker A, Moutier C, Satele DV, Sloan JA. & Dyrbye LN. (2014). Distress among matriculating medical students relative to the general population. Acad Med. 89, 1520-1525.
Brower KJ (2021). Professional Stigma of Mental Health Issues: Physicians Are Both the Cause and Solution. Acad Med. 96, 635-640.
Bynum WEt, Artino AR Jr, Uijtdehaage S, Webb AMB. & Varpio L. (2019). Sentinel Emotional Events: The Nature, Triggers, and Effects of Shame Experiences in Medical Residents. Acad Med. 94, 85-93.
Bynum WEt. & Sukhera J. (2021). Perfectionism, Power, and Process: What We Must Address to Dismantle Mental Health Stigma in Medical Education. Acad Med. 96, 621-623.
Calderon M, Zuniga D, Leiva I, Padilla O. & Bitran M. (2018). Evaluacion de aproximaciones al aprendizaje clinico a traves de CEACLIN: Resultados en estudiantes de medicina en una universidad chilena. Rev Med Chil. 146, 854-861.
Daya Z. & Hearn JH. (2018). Mindfulness interventions in medical education: A systematic review of their impact on medical student stress, depression, fatigue and burnout. Med Teach. 40, 146-153.
Díaz Bambula F. & Gómez IC. (2016). Research on burnout from 2000 to 2010 in Latin America. Psicología desde el Caribe 33, 113-131.
Díaz Piga LA, Arab Verdugo JP, Nuñez Palma C, Robles García C, Bitran Carreño M, Nitsche Royo MP, Véliz Lagos D, Lopetegui Lazo M, Torres Lisboa P, González Tugas M, Hoyl Moreno MT. & Riquelme Pérez A. (2017). Burnout en médicos residentes de especialidades y subespecialidades: estudio de prevalencia y variables asociadas en un centro universitario. ARS MEDICA Revista de Ciencias Médicas 42, 27 -33.
Drolet BC. & Rodgers S. (2010). A comprehensive medical student wellness program--design and implementation at Vanderbilt School of Medicine. Acad Med. 85, 103-110.
Dyer O. (2019). Physician burnout costs US $4.6bn a year, study finds. BMJ 365, l2361.
Dyrbye LN, Massie FS. Jr, Eacker A, Harper W, Power D, Durning SJ, Thomas MR, Moutier, C, Satele D, Sloan J. & Shanafelt TD. (2010). Relationship between burnout and professional conduct and attitudes among US medical students. JAMA 304, 1173-1180.
Dyrbye LN, Sciolla AF, Dekhtyar M, Rajasekaran S, Allgood JA, Rea M, Knight AP, Haywood A, Smith S. & Stephens MB. (2019). Medical School Strategies to Address Student Well-Being: A National Survey. Acad Med. 94, 861-868.
Dyrbye LN, Thomas MR, Power DV, Durning S, Moutier C, Massie FS. Jr, Harper W, Eacker A, Szydlo DW, Sloan JA. & Shanafelt TD. (2010,). Burnout and serious thoughts of dropping out of medical school: a multi-institutional study. Acad Med. 85, 94-102.
Edmondson AC, Higgins M, Singer S. & Weiner J. (2016). Understanding Psychological Safety in Health Care and Education Organizations: A Comparative Perspective. Research in Human Development 13, 65-83.
Epstein RM. & Privitera MR. (2016). Doing something about physician burnout. Lancet 388, 2216-2217.
Freudenberger HJ. (1986). The issues of staff burnout in therapeutic communities. J Psychoactive Drugs 18, 247-251.
Hope V. & Henderson M. (2014). Medical student depression, anxiety and distress outside North America: a systematic review. Med Educ 48, 963-979.
Houpy JC, Lee, WW, Woodruff JN. & Pincavage AT. (2017). Medical student resilience and stressful clinical events during clinical training. Med Educ Online 22, 1320187.
Kabat-Zinn J. (2003). Mindfulness-based interventions in context: Past, present, and future. Clinical Psychology: Science and Practice 10, 144-156.
Krasner MS, Epstein RM, Beckman H, Suchman AL, Chapman B, Mooney CJ. & Quill TE. (2009). Association of an educational program in mindful communication with burnout, empathy, and attitudes among primary care physicians. JAMA 302, 1284-1293.
Maslach C, Schaufeli WB. & Leiter MP. (2001). Job burnout. Annu Rev Psychol 52, 397-422.
Nitsche Royo P, Echeverria G, Pedrals N, Zúñiga D, Rigotti A, Cisternas M, Grassi B. & Bitrán, M. (2021). Autocuidado en estudiantes de medicina: implementación y evaluación de un programa online. ARS MEDICA Revista de Ciencias Médicas. Artículos aprobados en proceso de publicación / Ahead of print.
Shanafelt T, Trockel M, Ripp J, Murphy ML, Sandborg C. & Bohman B. (2019). Building a Program on Well-Being: Key Design Considerations to Meet the Unique Needs of Each Organization. Acad Med. 94, 156-161.
Shanafelt TD, West C P, Sloan JA, Novotny PJ, Poland GA, Menaker R, Rummans TA. & Dyrbye LN. (2009). Career fit and burnout among academic faculty. Arch Intern Med. 169, 990-995.
Shiralkar MT, Harris TB, Eddins-Folensbee FF. & Coverdale JH. (2013). A systematic review of stress-management programs for medical students. Acad Psychiatry 37, 158-164.
Slavin, S. (2019). Reflections on a Decade Leading a Medical Student Well-Being Initiative. Acad Med. 94, 771-774.
Slavin S. & D'Eon M F. (2021). Overcrowded curriculum is an impediment to change (Part A). Can Med Educ J 12, 1-6.
Slavin SJ. & Chibnall JT. (2016). Finding the Why, Changing the How: Improving the Mental Health of Medical Students, Residents, and Physicians. Acad Med. 91, 1194-1196.
Tsuei SH, Lee D, Ho C, Regehr G. & Nimmon L. (2019). Exploring the Construct of Psychological Safety in Medical Education. Acad Med 94(11S Association of American Medical Colleges Learn Serve Lead: Proceedings of the 58th Annual Research in Medical Education Sessions), S28-S35.
Villwock JA, Sobin LB, Koester LA. & Harris TM. (2016). Impostor syndrome and burnout among American medical students: a pilot study. Int J Med Educ. 7, 364-369.
West CP, Dyrbye LN, Erwin PJ. & Shanafelt TD. (2016). Interventions to prevent and reduce physician burnout: a systematic review and meta-analysis. The Lancet 388, 2272-2281.
West CP, Tan AD, Habermann TM, Sloan JA. & Shanafelt TD. (2009). Association of resident fatigue and distress with perceived medical errors. JAMA 302, 1294-1300.
Zúñiga D, Torres-Sahli M, Rigotti A, Pedrals N, Echeverría G, Padilla O, Lagos A, McColl P, Trucco O, Cisternas M, González C, Bogado J, Moraga AM, Altamirano P, Durán E, Mansilla M, Berríos C, Epstein R. & Bitran M. (2021). Dispositional Mindfulness Reduces Burnout and Promotes Flourishing in Medical Students: a Two-Wave Latent Change Score Model. Mindfulness.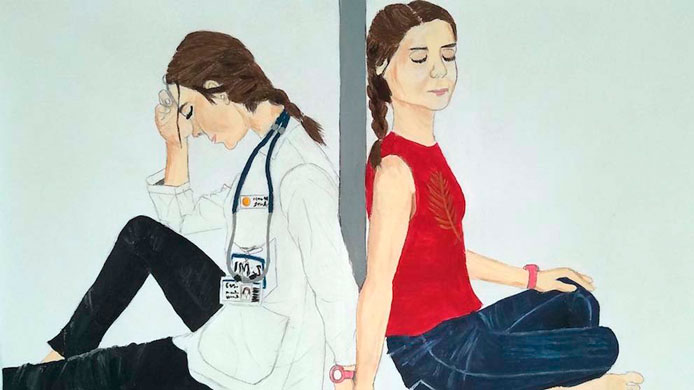 Descargas
Cómo citar
Bitran, M. . (2021). Burnout y bienestar estudiantil: una mirada nueva a un problema viejo: Student burnout and wellness: a fresh look at an old problem. ARS MEDICA Revista De Ciencias Médicas, 46(4), 71–76. https://doi.org/10.11565/arsmed.v46i4.1855
Sección
Artículos medicina y sociedad
Licencia
Derechos de autor 2021 ARS MEDICA Revista de Ciencias Médicas
Esta obra está bajo una licencia internacional Creative Commons Atribución-NoComercial-SinDerivadas 4.0.